SurVaxM is a first-of-its-kind, patented peptide mimic immunotherapeutic vaccine (immunotherapy) that targets survivin, a cell-survival protein present in 95 percent of glioblastomas and many other cancers. It is engineered to recognize survivin-expressing cancer cells as foreign and stimulate patients' own immune response to control tumor growth and recurrence.
While vaccines are typically thought of as ways to prevent diseases, vaccines can also be used in a therapeutic mode as an immunostimulant (e.g., to treat cancer). SurVaxM is delivered through simple subcutaneous injection.
MimiVax has an exclusive license to globally commercialize SurVaxM, as well as an extensive worldwide patent portfolio for SurVaxM and other products in development.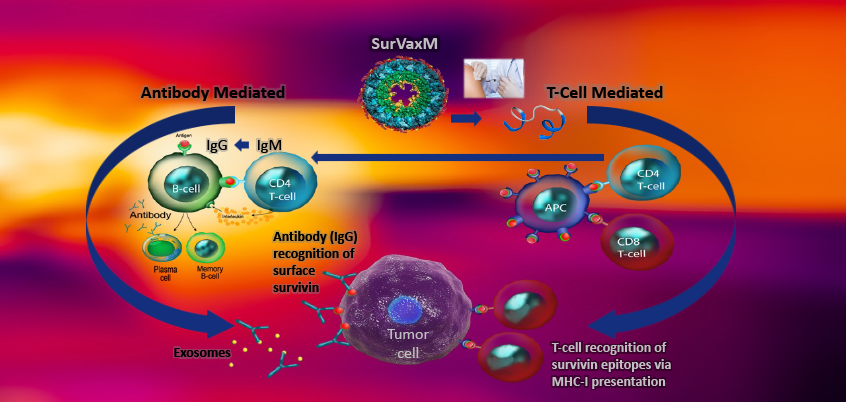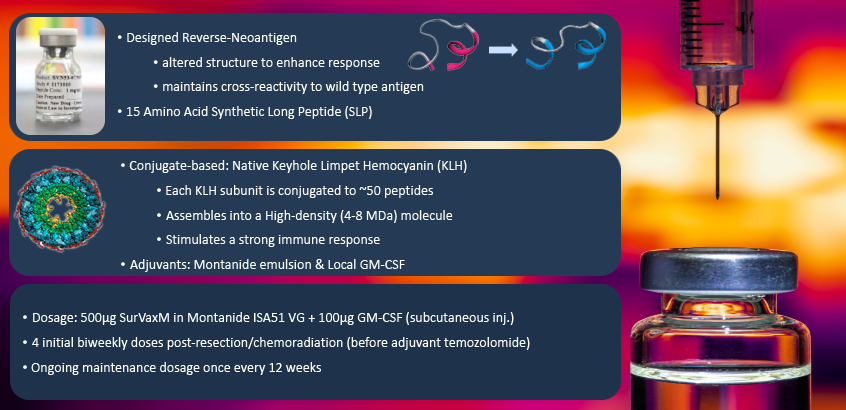 SurVaxM demonstrated safety and tolerability in a Phase I study in patients with recurrent or progressive malignant glioma as well as a Phase II  study of newly diagnosed glioblastoma. 
SurVaxM has completed a Phase II clinical trial in adults with newly diagnosed glioblastoma at leading cancer centers: Roswell Park Comprehensive Cancer Center, Cleveland Clinic and Dana-Farber Cancer Institute, Massachusetts general Hospital and Beth Israel Deaconess Medical Center. Please visit the Clinical Trials page for more information.
Although SurVaxM was first tested in brain cancer, survivin is present in most cancers, including multiple myeloma, melanoma, ovarian, renal, lymphoma, prostate and breast cancers. Thus SurVaxM could have broad applicability to many other types of cancer.
A Phase I clinical trial evaluating SurVaxM in combination with REVLIMID®(lenalidomide) as a maintenance therapy for adults with multiple myeloma has been initiated with support from Celgene (marketer of REVLIMID®). Please visit the Clinical Trials page for more information.
Neuroendocrine Tumors (NET)
This phase I trial studies the side effects of survivin long peptide vaccine and how it works with the immune system in treating patients with neuroendocrine tumors that have spread to other parts of the body (metastatic). Tumor cells make proteins that are not usually produced by normal cells. The body sees these proteins as not belonging and sends white blood cells called T cells to attack the tumor cells that contain these proteins. By SurVaxM, the immune system can be made to kill tumor cells. Giving SurVaxM to patients who have survivin expression in their tumors may create an immune response in the blood that is directed against neuroendocrine tumors. 
Please follow the links below to view information about our active clinical trials.